Talisay City Jail Wins Best City Jail For Two Consecutive Quarters
Talisay City- For two consecutive quarter of the year 2016 and 2017, Talisay City Jail continue to make records when it got this 1st Quarter 2017 award as the 1st place Best City Jail for its eminent and extraordinary transformation and development while Jail Inspector Romeo J. Eyoy, Jail Warden, was awarded as Best City Jail Warden for the second time and Best Practice Award.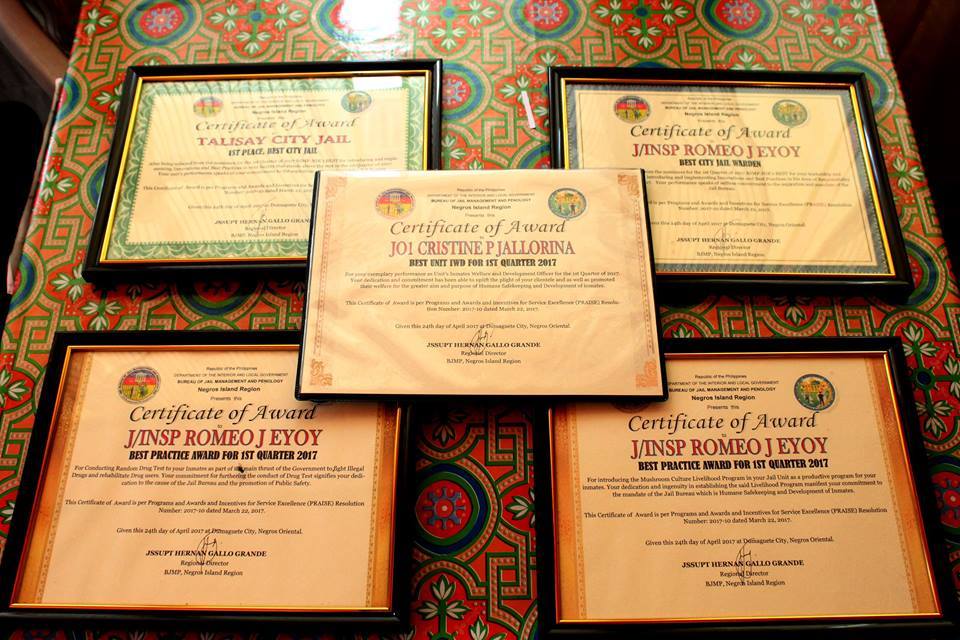 The awarding took place last April 24, 2017, during the 1st Quarter year 2017 Management Conference of the Bureau of Jail Management and Penology-Negros Island Region (BJMP-NIR) held at Dumaguete City.
Moreover, Talisay City Jail also capped the Best Inmates Welfare and Development Officer for Jail Officer 1 which was given to Jail Officer 1, Cristine Jallorina.
The giving of awards was in pursuant to Programs and Awards and Incentives for Service Excellence (PRAISE) Resolution Number 2017-10.
Talisay City Jail begins to gain BJMP-NIR attention when INSP. Eyoy marked a huge transformation of the jail facility into one institution anchored on President Duterte's commitment to "Malasakit at Pagbabago" or True Compassion and Real Change.
What impressed BJMP were the innovations and best practices of the jail facility that stood above the rest in the performance of the commitment, aspiration, and mandate of the Jail Bureau.
INSP. Eyoy introduced the conduct of random drug test to inmates as well as the rehabilitation programs for drug user detainees. Talisay BJMP also maintained zero escape and negative jail disturbance and moreover, the mushroom culture livelihood program which benefits the inmates by acquiring new skills and an additional source of income inside the jail facility.
Jail Warden Eyoy said, "giving the highest value to human life and dignity to inmates coupled with intensified reformation programs at the same time unique innovations is the key to the success of Talisay City Jail"