Talisay tanods get support
Published in the Visayan Daily Star newspaper on August 15, 2017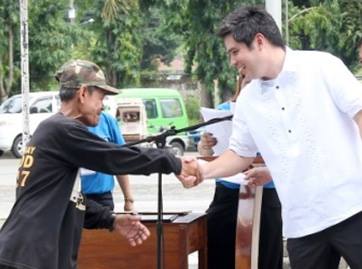 Mayor Neil Lizares III has allocated funds for the monthly financial support of the 366 barangay tanods from the barangays of Talisay City.
A total of 253 barangay tanods received their first monthly allowance of P500 last week, a Silay City government press release said.
Barangay tanods play an important role in keeping peace and order in every barangay, with a meager income they still continue to do their duties and responsibilities as peacekeepers, Lizares said.
The Talisay City government has also sponsored a series of trainings on basic live saving, fire fighting and other multi sectoral concerns to equip the tanods with all the skills and knowledge needed for their job, the press release said.
The learnings they have acquired from these trainings will give them self -confidence and will help improve their performance, it added.*
A barangay tanod receives his monthly financial support from Talisay Mayor Neil Lizares III.*